May 20, 2014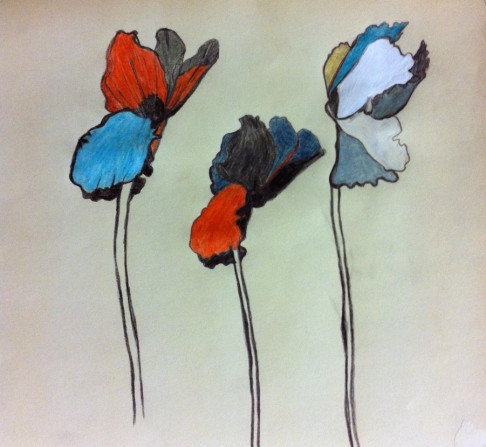 (The Persian Cyclamen Sisters © by Emily Kocken, 2013)
Living on the second floor looking down to admire the meticulous garden of the old lady downstairs. As soon as there's a glimpse of sun, she is out there engaged in weeding, watering, cutting a bush in some geometrical shape. She rarely looks up. We are just two so-called backdoor neighbors not knowing each other by name. Not caring so much for it, I guess.
Last year she said something to me. That came as a surprise, and I didn't manage to utter a word in return. I believe it was a polite nod or something of the sort. It was early evening, there was a breeze and I decided to take care of the long, grassy wild flowers that were hanging in large pots on my balcony. The lady called, her voice was carried easily on the tail of an elegant whirl of wind.
"Mooie bloemen op je balkon, meissie!"
Yes, it was a compliment given to the state of the flowers on my balcony. After years of disappointment and failure, plants refusing to grow a single bud, let alone a leave, or start the natural process of growth and bloom, due to the rough circumstances on my windy, sun struck balcony, I actually managed to grow something.
Well, nature did, of course. I decided to use my head, and came with an organic approach. So I planted some seed and waited for the plants to grow, to see which ones could survive the attacks of serious sun and hostile storm. Well, many of them did, and it was an amazing sight, this abundance of shapes and colors, even able to attract an occasional butterfly.
And they caught the attention of the old gal's downstairs in her perfectly kept 'House & Garden' garden as well. She bellowed out in Dutch how beautiful it was: "Mooie bloemen op je balkon, meissie!" The last word meaning 'little girl' which as a title is far from the truth of my biological make-up but to her, the 'old gal' I always will be the little one. Especially when seen from a distance. But her kind words dedicated to the grassy flowers made me glow with pride.
This year I decided to experiment a little bit, and I planted tomatoes, parsley and then I cheated a little by buying ready-mades to fill the other pots. Full grown plants. I saw them, a variety of blue green plants with magenta flowers. I couldn't resist their lure, the perfection of the state they were in: finished. Ready to be planted, to be enjoyed by me and my neighbors particularly.
Since the weather has been so nice already she and I, the old gal in her garden, and the young one upstairs, have been quite busy rumbling around the hope of green. So far none of us has spoken a word to each other. Truly, I hope she likes the look of my tomatoes when they are all fully grown.