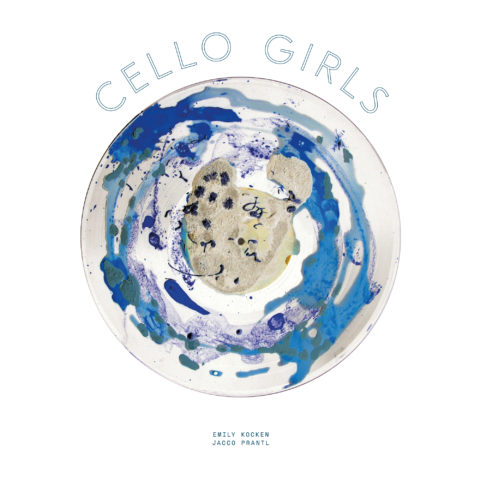 Cello Girls: LP
Album
2018
Mixed & Produced by Jacco Prantl
Cello: Emily Kocken
Pressed by The VinylCompany
Graphic Design by Carst vd. Molen
Front Image: Spheres no. 2, Emily Kocken
© Emily Kocken & Jacco Prantl 2018
Receive your download code with a purchase.
The download contains all tracks as MP3 @ 320Kbps.
Side One
Compositions
Jacco Prantl
Influx 1'05"
Happening 1'24"
June 1'26"
Answering Charlotte 1'56"
Global Groove 2.0 2'12"
Ground Kiss 1'07"
Inspired by themes from works for violoncello by Edward Elgar, Jules Massenet and Benjamin Britten
Side Two
Cello Solo
Emily Kocken
Edith Rhoda 3'46"
Benjamin Britten: Lamento from the First Cello Suite followed by Canto (Con moto) from the Third Cello Suite
Johanna 3'54"
Opening page from Johannes Brahms' Sonata for violoncello and piano played with extended notes and added pizzicati sans piano
Anna 4'06"
Prelude of the First Cello Suite by Johann Sebastian Bach played backwards

Cello Girls is a work that gradually reveals its discursive qualities, such as the parts of a symphony or the chapters of a novel. Cello Girls is a project, a vinyl record, a spatial installation and a series of events. The installation functions as a hub for sound, image, thoughts, memories, sadness, emotions and ceremonial playfulness.
The album is the result of a collaboration between artist, writer and cellist Emily Kocken and producer and philosopher Jacco Prantl. For this work they were inspired by the work of the cellist Charlotte Moorman, who until recently was almost forgotten. She was part of the Fluxus movement and caused quite a stir in the sixties with revealing performances on a fantastic scale. Moorman was both muse and feminist. She broke through the strict frameworks of the classical tradition, and connected her body to the cello into a new instrument.