November 9, 2014

So there I was, waiting in line for only half an hour. It was an early Sunday, autumn is our best friend this season, dressed in foggy outfits, telling the sun to stay close. I was waiting, anticipating but it was not the same emotional experience it used to be. When I was young(er) I went to Paris with my boyfriend back then to see the Rothko show at the museum of modern art. We had to wait for hours, standing outside in this crazy line that went on forever. We were hungover from the night before, and inside of the museum I nearly passed out. It was the emotion, it was my body rejecting the sovereign nature of Rothko's work. I am talking of the famous ones, the rectangle monoliths, the ones people buy posters of.

At the Haags Gemeentemuseum they showed older works as well, figurative, resembling Willem de Kooning (I heard someone say with pride). There was a room dedicated to the Rothko Mondriaan connection. Although I am all for it, to stay loyal to your own artists and because Mondriaan had this undeniable influence on certain representatives of the abstract expressionist movement, the reason to create this Monko or Rothriaan space was legitimate. It did not work as well as another room I will dedicate a few lines to in a moment, on this silent Sunday.

First I want you to look at this image.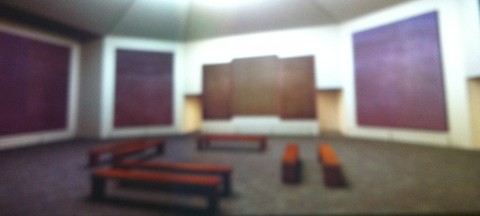 This is a photograph I took with my mobile phone of a video of the famous Rothko Chapel in Houston. This landmark of Texas is somewhat of a hike when you visit the US sticking 'only' to the usual East or West Coast highlights. I have never been at the Chapel myself though I consider myself a serious admirer of Rothko's work. And now, here it was, in the last room of the show at the Haags Gemeentemuseum, a space near the backdoor, an entrance to a projection room one could easily miss when not paying proper attention. I am not saying the organizers or curators or whatever kind of people were involved in the mapping process, deliberately were sending visitors astray. No. It is a good thing to save the best for last. Typing down the adjective 'best' I am tempted to delete. No, again. It was the best room. The indirectness of this experience, stressing the status of not being there, the representation of this sanctuary, the sky rocketing of his career by means of the strange contradictorily commissions he received…
I could show you a picture (a selfie) of my face, looking at this video. Sitting down on a bench, looking at empty benches, facing monumental paintings that testify of a loss most members of the modern society suffer: the loss of religion or rather, religiousness, a battle won by our desire for something new and vague as spirituality.
But I am not showing you my face. I did not feel tempted to make a 'Rothko Selfie' but I am pretty sure a lot of people did.